blogbymags!
portrait of the artist as a craftivist...
Subscribe in a reader
My Obama Design At Coachella!
OK, this is seriously cool. I have no idea who the DJ is or how this happened, but I have posted my design far and wide on the internet via
Flickr
, and I do have some folks associated with the Obama campaign interested in using it for various promotional things (more details later as things happen) - and I don't know if this is connected to any of that or if it's a totally random, viral thing (my guess is the latter)...
But check this out:
I know it's shaky stuff, probably on someone's cell phone, but THAT'S MY DESIGN UP THERE ON THE BIG SCREEN! With thousands of people watching it! At Coachella! Isn't that cool?
Hopefully I can get the scoop on it and report back here, but it's nice knowing my design has legs, and is out there doing some good work without me.
**Edited to add: I just found out the DJ was Adam Freeland. His VJ found my image online, along with Shep's. He's checking to see if there's some clean video from the Coachella folks that I can get my hands on.
More Stuff Up On Etsy!
Check out
my Etsy shop
for new listings, including one-of-a-kind Barack Obama stencil prints, more t-shirts, and all my remaining mixed media pieces, which are now on clearance! (You can still buy the mixed media pieces
here on my webshop
, as well.) In the coming weeks, you'll start to see even MORE of my current inventory listed on my Etsy shop, as I'm trying hard to raise the funds to cover the enormous expense of my upcoming move to New Orleans.
Also, I just signed up for the new
Revolutionary Money Exchange
site. It's a new PayPal-like money exchange system, but it doesn't charge you fees to exchange money with other members. Plus you get $25 when you sign up (until May 15th), and $10 for every person you refer. I did this back when PayPal was brand new and I've never regretted it; I know a lot of folks hate PayPal now, but this new system is trying to correct some of the mistakes made with PayPal, so I'm giving it a shot.
If you'd like to sign up and try it - and get the free $25 -
click here
.
Creative Outlet Art Show
Now through the end of Jazz Fest, some of my stuff is on display and up for sale in New Orleans at my friend Jen Biniek's
Funky Lil' Art Show
, at her
Creative Outlet
space.
She's done this for the past several Jazz Fests - she opens up her living room, takes everything of hers off the walls and replaces it with artwork from a smattering of her creative friends, has an opening party (sorry, I'm a little late announcing this here, it was this past Friday), and has open house hours every night after Jazz Fest, from 6-9pm. There might be a closing party, too - more on that later. Her address is: 2909 Ponce de Leon, at the corner of N. White, two blocks from the Fairgrounds (and the Sauvage St. pedestrian exit). Stop on by on your way out of the Fest any day, and take a look at all the cool, affordable art on her walls.
Here's my wall o' stuff, a very random assortment of clocks, t-shirts, Obama prints and even a stencil painting on canvas. (All pics courtesy of Jen herself, lifted from her livejournal.)
And here's a few other pics, to entice you to drop by:
I love this woman's work. She's an out of state artist - Carol Springer is her name - but Jen features her in all of her shows, and I never get tired of seeing her stuff. One of these days I'm gonna have the $$ to buy one or two!
I'm particularly fond of the mermaids, and also the half-face portraits. And her prices are so reasonable... really affordable.
Penny Cash's little Mexican-flavored altars/shrines are also a recurring favorite at Jen's art shows.
I always dig the Virgin Mary ones, but she's also got a lot of cool day-of-the-dead imagery going on, mixed in with specifically New Orleans stuff.
They are tiny little things, but also very reasonably priced. A steal, really. Go check 'em out for yourself!
And then, in the picture below, there's NOLA Coasters - Jen's friends Dave and Mindy - who do all these great New Orleans themed things, from coasters to magnets to apparently now tshirts (?). (It's hard to tell from the photos, since I'm not there, exactly what everything is, but that's what it looks like to me in this pic.) They use photos of lots of old school New Orleans businesses and landmarks, plus symbols like the fleur de lis and the water meter cover design.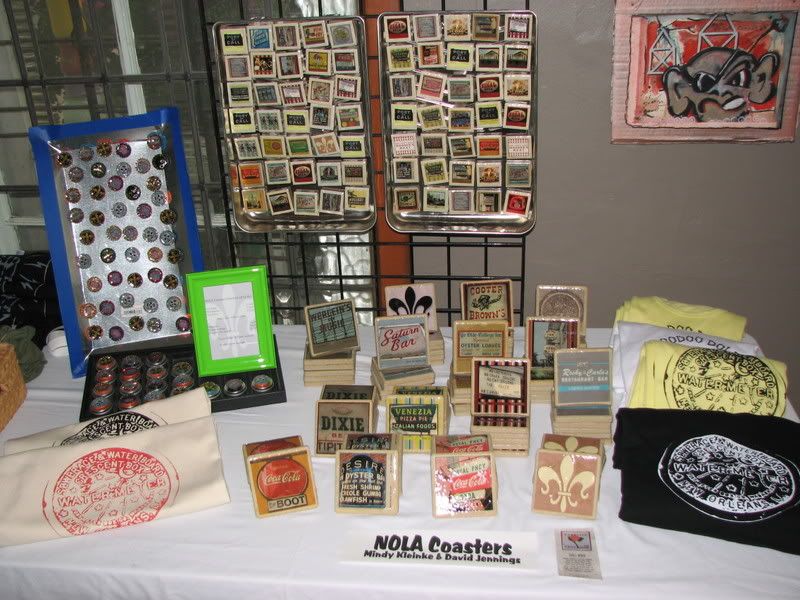 And lastly, artist and all-around freak (in a good way!) Chris Cressionnie has what appears to be a whole new look - maybe even stencil art? It's hard to tell from the photos, but I sure wish I was there to take a good look at these myself. They look cool!
There are many more artists in the show - including my sister Craft Mafiosas
greenKangaroo
and
dismantled designs
- so please, if you're in NOLA for the Jazz Fest, stop by and support local and independent artists, and get yourself some very affordable, funky art.
A Few Things, and... I'm Headed To New Orleans!
#1 - There's a great interview with
Shepard Fairey
on NPR, about his Barack Obama campaign posters. I think it aired earlier today, but it's
archived on their website
so you can listen to it at anytime. I love that he still sounds like a surfer dude!
#2 - If you haven't seen it already, Mike Dingler of
NOLA Rising
was interviewed on WDSU in New Orleans recently. Watch it here:
#3 - My Obama stencil tshirts made it onto
ShirtTheVote.com
! Isn't that cool?
And finally, I'm headed to New Orleans in two days! Yes, that's right, art by mags! will be in NOLA this weekend, and will be vending at the
Crescent City Craft Market
on Sunday the 13th, from 2-6pm at the Big Top. This trip is mostly an early apartment scouting trip, for our impending move this summer, but I also wanted to take in some of the
V to the 10th
activities occuring Friday and Saturday, and am thrilled I get to participate in the New Orleans Craft Mafia market on Sunday.
I'll definitely have some of my Barack Obama stencil prints and t-shirts, as well as lots of new "Rise Up New Orleans" t-shirts, too, along with some new signs, clocks and other things. So please, if you've been meaning/wanting to get a shirt from me (or anything else, for that matter), please come see me on Sunday - I could really use the money! Plus I won't probably be back in town til Memorial Day weekend, when I hope to be vending at the Bayou Boogaloo in Midcity. (If you can't make it on Sunday and have a burning desire, feel free to
email me
and maybe can make some kind of arrangement to meet up for a private viewing!)
Obama PROGRESS 9"x12" Prints On Sale Today!
Just a quick tip for the Obama freaks out there, many of whom I'm sure missed out on the sale of the Shepard Fairey "Progress" and "Vote" posters like I did. Today, at some random time - Obeygiant.com always releases their prints at random times - a new Barack Obama "Progress" print will be released. (The picture of it is on the main "News" page of the ObeyGiant.com site, but it's not yet up for sale.)
It's the same image as before, that everyone's familiar with, but it's a smaller 9"x12" size. Edition of 400. Cost is $25 plus shipping. (Shipping was $7.50 for the larger posters; not sure if it will be the same for this smaller one.) It doesn't say what the medium is - silkscreen, offset lithograph, etc. But at least it gives the opportunity to all those who previously missed out to get their own copy, and at a fairly affordable price (as opposed to the $70 price tag of the "Change" poster up on Obama's own web store). I'll assume these will be signed by the artist, as most everything released out of Obeygiant.com is.
I have no idea when this will drop, so you'll just have to keep checking in to
the store page
regularly throughout the day. (Or more specifically, the
Prints page
.)
I can't decide if I want one or not. On the one hand, I did score a "Hope" print from Obey, so do I really need yet another Obama image? Plus, I really liked the "Hope" design more, like the word "hope" more; it has more meaning to me personally. "Progress" doesn't really grab me. But then at the same time, the collector in me says, but it's one more piece of the set, and if Obama does end up winning, these will likely be really valueable one day. Plus then I could arrange the "Hope" and a smaller "Progress" and the "Hope" sticker I got into some kind of fun arrangement, maybe even with my own Obama stencil print. I could have a whole wall of Obama in my new apartment in NOLA! And, well, it's only $25. It's not much of a risk and with a limited edition of only 400, there's bound to be more people than that who want one, meaning, the price will instantly go up after it sells out. I don't really like the idea of flipping, but, um, I am pretty broke right now.
So I guess it probably all depends on whether I end up noticing when it's released. I'm not going to obsess about it - I have a music column to finish writing this morning - but I do have ObeyGiant.com on my feed reader, so I'll likely know roughly when it goes up. So maybe I'll try. Good luck to everyone else who might also try!
PS: And just to compare and plug my own stuff... my 11"x14" "Believe" stencil prints (and hand-printed tshirts, for that matter) are such a bargain compared to these! Bigger AND cheaper!
Add to your Obama collection
!
Subscribe in a reader
Subscribe Via Email