blogbymags!
portrait of the artist as a craftivist...
Subscribe in a reader
Creative Outlet Art Show
Now through the end of Jazz Fest, some of my stuff is on display and up for sale in New Orleans at my friend Jen Biniek's
Funky Lil' Art Show
, at her
Creative Outlet
space.
She's done this for the past several Jazz Fests - she opens up her living room, takes everything of hers off the walls and replaces it with artwork from a smattering of her creative friends, has an opening party (sorry, I'm a little late announcing this here, it was this past Friday), and has open house hours every night after Jazz Fest, from 6-9pm. There might be a closing party, too - more on that later. Her address is: 2909 Ponce de Leon, at the corner of N. White, two blocks from the Fairgrounds (and the Sauvage St. pedestrian exit). Stop on by on your way out of the Fest any day, and take a look at all the cool, affordable art on her walls.
Here's my wall o' stuff, a very random assortment of clocks, t-shirts, Obama prints and even a stencil painting on canvas. (All pics courtesy of Jen herself, lifted from her livejournal.)
And here's a few other pics, to entice you to drop by:
I love this woman's work. She's an out of state artist - Carol Springer is her name - but Jen features her in all of her shows, and I never get tired of seeing her stuff. One of these days I'm gonna have the $$ to buy one or two!
I'm particularly fond of the mermaids, and also the half-face portraits. And her prices are so reasonable... really affordable.
Penny Cash's little Mexican-flavored altars/shrines are also a recurring favorite at Jen's art shows.
I always dig the Virgin Mary ones, but she's also got a lot of cool day-of-the-dead imagery going on, mixed in with specifically New Orleans stuff.
They are tiny little things, but also very reasonably priced. A steal, really. Go check 'em out for yourself!
And then, in the picture below, there's NOLA Coasters - Jen's friends Dave and Mindy - who do all these great New Orleans themed things, from coasters to magnets to apparently now tshirts (?). (It's hard to tell from the photos, since I'm not there, exactly what everything is, but that's what it looks like to me in this pic.) They use photos of lots of old school New Orleans businesses and landmarks, plus symbols like the fleur de lis and the water meter cover design.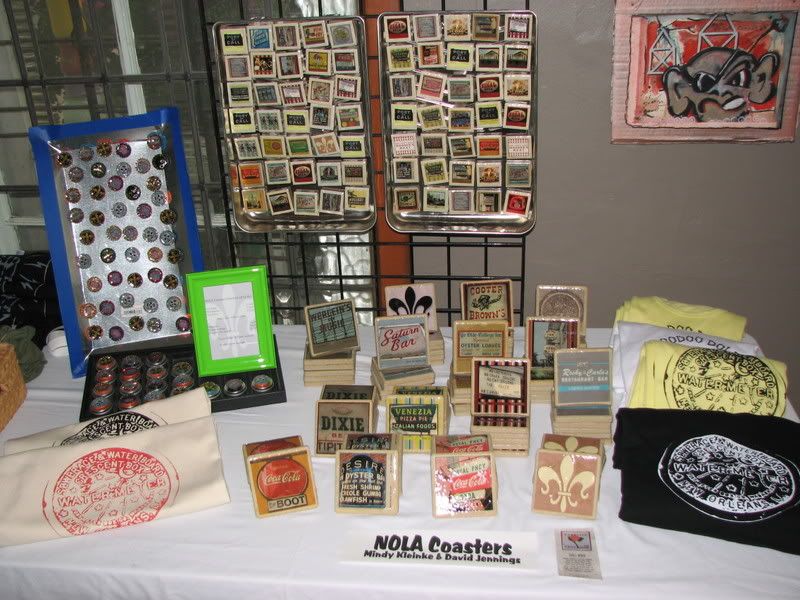 And lastly, artist and all-around freak (in a good way!) Chris Cressionnie has what appears to be a whole new look - maybe even stencil art? It's hard to tell from the photos, but I sure wish I was there to take a good look at these myself. They look cool!
There are many more artists in the show - including my sister Craft Mafiosas
greenKangaroo
and
dismantled designs
- so please, if you're in NOLA for the Jazz Fest, stop by and support local and independent artists, and get yourself some very affordable, funky art.
Subscribe in a reader
Subscribe Via Email